We recently received our first batch of letters of the academic year, all the way from Kashechewan. Among other books, we sent Big Rig Bugs, which was a big hit with Miss Ashley's senior kindergarten class.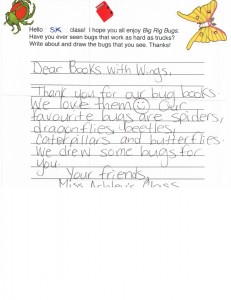 (Click on the image to enlarge it.)
Book: Big Rig Bugs (Kurt Cyrus)
Transcription:
Hello SK class! I hope you all enjoy Big Rig Bugs. Have you ever seen bugs that work as hard as trucks? Write about and draw the bugs that you see. Thanks!
Dear Books with Wings,

Thank you for our bug books. We love them! Our favourite bugs are spiders, dragonflies, beetles, caterpillars and butterflies. We drew some bugs for you.

Your friends,

Miss Ashley's class
Here are some of the gorgeous drawings from Miss Ashley's class. (You can find lots more in our Ontario gallery.) Thank you for sending us your lovely pictures!
(Click on the images to enlarge them.)
We received some pictures about Caramba, the swimming cat, as well!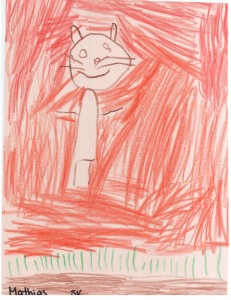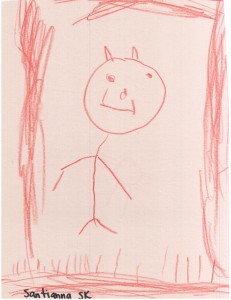 We're really looking forward to seeing more of your drawings during the year!