Ms. W., whose students feature in this post, very kindly took the time to write to us herself. Here is an excerpt from her letter: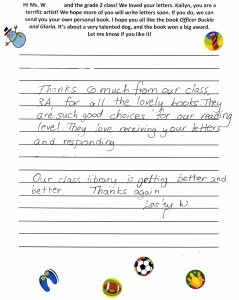 (Click on the image to enlarge it.)
Transcription:
Thanks so much from our class 3A for all the lovely books. They are such good choices for our reading level. They love receiving your letters and responding.

Our class library is getting better and better. Thanks again.

Lesley W.
Thank you so much, Ms. W., for taking the time to write to us. We love receiving and responding to 3A's letters, too!
Thank you to Paula Banks of Catchlight Canada Photography for photo permissions.