One of our goals is to encourage the children to engage with what they are reading, so some receive a letter asking questions about their particular book. We also send a stamped and addressed envelope, so that they can mail their responses back to us. We enjoy reading their thoughts and comments, and respond immediately so that they know their answers are interesting and meaningful. This interactive approach puts an emphasis on dialogue and reflection, and at the same time promotes literacy skills.
Here is a lovely letter we received from a snow-loving child in Manitoba!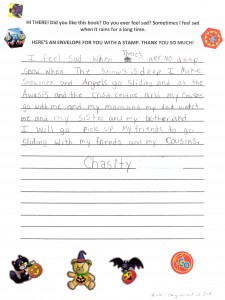 (Click on the image to enlarge it.)
Book: My Friend is Sad (Mo Willems)
Transcription:
HI THERE! Did you like this book? Do you ever feel sad?
Sometimes I feel sad when it rains for a long time.
I feel sad when there's No deep snow when The snow's is deep
I Make Snowmen and Angels go sliding and at the Awasis and the crisis centre
and my cousins go with me and my mom and my dad watch me and my sister and my
brother and I will go pick up my friends to go sliding with my friends and my
cousins.

Chasity